Zotero is definitely the ultimate tool to organize your readings, notes and even more with the new version:
It has a lot of interesting features:
A new PDF manager
The possibility to extract your annotations
A a real time translator ( with an extension)
A markdown management
And a lot more …
1.The new PDF manager:
It has a new PDF reader on which you can add and manage your annotations, ( text and images) easily to your notes:
Here the link to a tutorial on how to use it: https://www.zotero.org/support/pdf_reader
2.The real time translator:
The name of the extension is "Zotero PDF translate". You will be able with this tool to have in real time translation and even add the translation directly into your notes.
To install it, you just have to follow the Quick start guide on the page, and it is quite easy. If you have issues, just message us.
3. A markdown management :
The philosophy of markdown is: "easy to read and easy to write". I use to be a bit messy while taking my note. Learning the "markdown syntax" has been helping me a lot. To put it simply the markdown syntax will allow you to organize your notes in a good shape, quite quickly ( your titles, lists quotations or else). Like :
Title 3 : ###
Title 2: ##
Title 1 : #
Line : ***
Block quote : >
list : *
Here a link about some basics of the markdown syntax: https://www.markdownguide.org/basic-syntax
4. Extract annotations:
Since one year I was using a "zotfile extension" to extract my annotations from a PDF, but since the release of Zotero 6, it is possible to do it directly: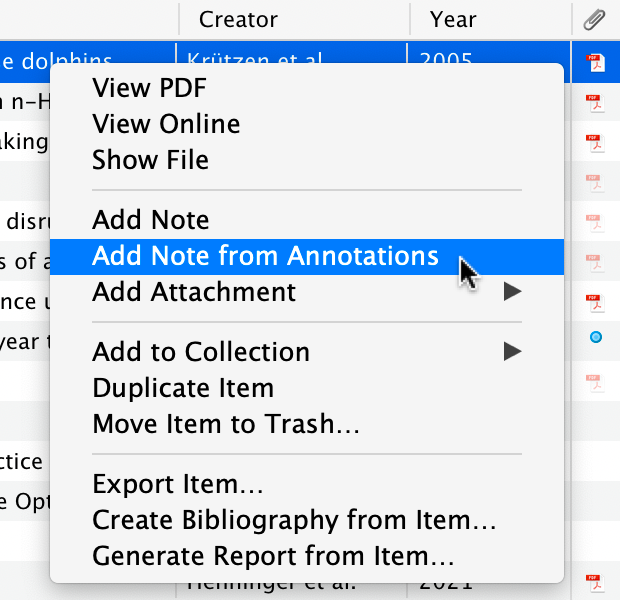 N.B to extract notes, you need a parent file ( in white) with the references of the PDF. Usually, it is created immediately after the PDF importation in Zotero.It will create a little file in yellow.
AND A LOT MORE
Zotero is an active project on Github with a lot of extensions, just take a glance and ask on the forum!
Here is the website portal : https://www.zotero.org/